Accommodation
As the song sung by Paul Young says "where ever I lay my hat – that's my home".
Thinking of hostel accommodation? Check out HostelWorld. If I am staying in a hostel I go to HostelWorld to compare and book a bed (or a family room if I am travelling with my family).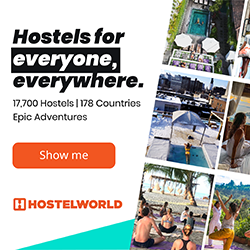 Hostel dormitory living or dorm living is unique. Let me tell you why. The shrilling alarm reverberated throughout our darkened room. "Shit" came a voice from above, and groans came from every corner of the room. Yes, another eventful day in the life of a...
read more
 You will find many different types of Accommodation as you travel the world.Here are our top 6 Accommodation types.  HostelsBest for: Solo Travellers + Budget Travellers (Couples and families)There are different types of hostels ranging from very basic to...
read more