Accommodation types as you travel the World
As the song sung by Paul Young says "where ever I lay my hat – that's my home".
There are a number of accommodation types as you travel the World. Ranging from hostels, hotels, B&Bs to studios, apartments, AirBnBs and House Sitting. There is something for everyone and every budget. And it is easy to book your accommodation in advance so you have somewhere for when you arrive.
Accommodation options
Thinking of hostel accommodation? Check out HostelWorld. If I am staying in a hostel I go to HostelWorld to compare and book a bed (or a family room if I am travelling with my family).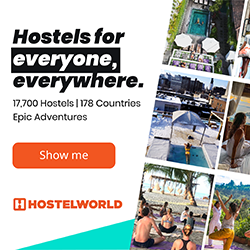 Prefer something a bit more up-market than a bed in a hostel? What about a hotel room or unit?  Then compare and book with Booking.com. 
Don't forget to take out travel insurance as you just never know if your accommodation might cancel on you. I mostly use WorldNomads Travel Insurance but have used other brands depending on what travel I am doing.
Accommodation Blogs
For the foreseeable future our world has shut up shop where travel is concerned. And it may be quite some time before we are able to start travelling again. But don't put your wanderlust on hold. The world is still at our fingertips and there are a number of ways to...
read more