Becoming a freelancer is a goal of many people because you can work on your own terms and you are not bound to one location. This suits many who want to work remotely, be a digital nomad or have a side hustle. And with the covid pandemic of 2020 some people have been forced to become a freelancer. So where do you start your freelance working life? Firstly, know your skills and decide on what jobs or gigs you can offer. Secondly, get your name out there. Now there are many freelancer job boards on the Internet to advertise your services on. One that I favour and make money from is Fiverr. Here is my post on how you can make money on Fiverr too.
What is Fiverr?
Before you register with a platform such as Fiverr, ensure you understand what the platform is all about. Fiverr's website states 'it is the world's largest marketplace for digital services'. It is basically a platform where a seller, you as a freelancer, sells your services like graphic design, programming, content writing, translating, video making, etc. to a buyer looking for said services. Fiverr acts as a two-way communication platform where the seller and buyer can find each other. A buyer can browse through seller profiles to meet their requirements and a seller can look through buyer requests for tasks to be completed. 
What do you need to work for Fiverr?
Fiverr is great for beginners to freelancing because all you need is a skill that people are willing to pay for. Plus some equipment to utilise your skill. The three main things being a computer or laptop, appropriate software and an Internet connection. Read my post on Have Office, Will Travel: Digital Tech Gear Essentials For Digital Nomads.
Working for Fiverr – What It's Like
When I first started working for Fiverr I was a little stressed because I had the worries of self doubt. My biggest fear was what if nobody bought my services! But they did. Then I worried about getting enough work. But with a good profile, which I got great tips how to present myself from doing the free training on Fiverr, I was getting lots of gigs. Overall, it has been a challenge being a freelancer, particularly sometimes with time differences, but enjoyable all the same, particularly when I am paid!
What sort of gigs can I offer on Fiverr?
Fiverr is a platform where sellers offer many different services that can be done online.  These include but are not limited to:
Graphics and Design: Logo Design, Gaming, Illustration, Photoshop Editing, Book Design, Web Design, T-shirt Design, Print Design such as brochures and menus.
Digital Marketing: SEO, Marketing Strategy, Content Marketing, Affiliate Marketing, Surveys, Web Analytics.
Writing and Translation: Translation, Proofreading and Editing, Resume Writing, Creative writing, Website Content Creation, Social Media Copy.
Video and Animation: Video Editing, Logo Animation, Visual Effects, Game Trailers, Music Videos.
Music and Audio: Voice Over, Mixing and Mastering, Songwriters, Jingles and Intros, DJ Drops and Tags, Remixing and Mashups.
Programming and Tech: WordPress, Website Builders and CMS, Web Programming, Mobile Apps, Chatbots, Data Analysis.
Business: Virtual Assistant, Data Entry, Legal Consulting, E-Commerce Management, HR Consulting.
Lifestyle: Online Tutoring, Cooking Lessons, Celebrity Impersonators
I suggest if you want to be a freelancer or just looking for a side hustle and have one or more of the skills listed visit the Fiverr website and check out the types of gigs that other current freelancers are offering. When you specialise in a particular area there is a buyer out there looking for that speciality. 
How to offer your services on Fiverr
To be able to offer your services on Fiverr you firstly need to create a profile. Then you need to create your Gig. This is where you show off your talent and provide buyers with all the information they require to help them decide to accept your freelance services. On Fiverr you offer three different bundles to sell your Gig.  Your first bundle will be a basic package. In the next two bundles you can upsell your Gig with extras that you will do before, during and after the gig has been ordered by a buyer. For example, this could mean for an extra few dollars you could deliver the service in 1 day rather than 3. When a buyer likes one of your Gigs they may contact you first for more clarification or they just might order it. Fiverr actually has a great free course you can do that will show you how you can grow your freelance business on Fiverr. From how it works, to creating your Gigs to converting potential interest from customers into customers. After all, your success is their success too.
How much can you make on Fiverr?
The sky is the limit when you offer your services through Fiverr. You can't really put an amount on it because being a freelancer it will depend on how many gigs you get as to how much you can make. In the beginning you may have to accept a lower rate of pay while you establish yourself. The more gigs you get and receive good ratings from the buyers after the gig has been completed you will rise in the ranks and can offer more for your services. And hopefully you will have a number of repeat buyers.
You may hear some negativity about Fiverr. As it is a great site for beginner freelancers you may need to offer your services at a low rate at first. Some freelancers will not work for such low amounts but you have to start somewhere, right! And some freelancers and those who run competition sites may make negative comments that can be found out in the ethos! But there are some clients on tight budgets and appreciate the low rates and you could think, it is better to be working at a low rate than not working at all.
When you are new to Fiverr you will be labelled as a 'New Seller'. However, once you start getting gigs, completing them on time and receiving reviews from buyers you can move up the ranks or levels to be a 'Top Rated Seller'. The more levels you move up the more you can charge for your services. 
When working out how much to charge for your services factor in that Fiverr takes 20% and you get 80%. 
How Do I get Paid on Fiverr
Once the gig is completed Fiverr will credit your account with the amount earned. When you are ready you can receive your money via a direct deposit into your bank account, PayPal or onto your Fiverr Revenue Card. This is a great thing about working on the Fiverr platform, you don't have to worry about invoicing clients and chasing up payments.
Pros and Cons to Fiverr
As with everything there are pros and cons. Here are the pros and cons I have found with making money on the Fiverr platform.
Pros:
The ability to work when you like however, if a gig is purchased and you have said it will be done in 3 days, you need to deliver.
Ability to work remotely and from wherever you will be. In your favourite coffee shop, by the ocean, in your van, as long as you get the work done it doesn't matter where you do it.
Fiverr acts as middle man and buyers come to the platform for a purpose – to find someone to complete a task for them.
The process of being paid is sorted by Fiverr so you don't have to.
Cons:
Fiverr does take a chunk of your Gig, 20%, for your use of the platform. But hey, without Fiverr you would have to find your own clients.
There are lots of other freelancers on the platform to compete with.
Some clients can waste your time and try to scam you by wanting extra work done before they will finalise the gig.
How to Apply To Become A Fiverr
Simply head over to the Fiverr website and create an account. It is free to join Fiverr. There is not required fee to list your services.
How to Make Money With Fiverr
I've really concentrated in this post on how to make money on Fiverr but you can also make money using Fiverr services, well indirectly. What I mean is, when you are starting out as a freelancer you may need help with services yourself, such as marketing services. I use Fiverr services to help me grow my business because the more I grow, the more work I get. Services I use include having pins created to add on my Pinterest account. Having someone else create them for me saves me heaps of time so I can dedicate my time to my writing and proofreading services, which is where I make most of my money. You too can use Fiverr in this way. By using its services yourself it frees you up to concentrate on doing what you do best.
Now you know how to make money on and with Fiverr
Fiverr is a great platform to begin your freelance or side hustle career. There is serious money to made if you have the skills and are prepared to put in the effort. Now you know how to make money on Fiverr you better get onto the platform and start. Click on this link to Fiverr and start making money now.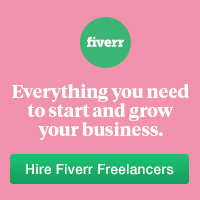 Hi. I'm Sharyn. I have travelled most of my life thanks to my dad who worked for an airline. Travelling so much has led to me being a Travel Writer, Publisher of travel guides and Content Creator for travel websites. I also love chocolate, coffee and a nice dry glass of white wine. I have created LiveWorkPlayTravel to help you work abroad, work online and to travel the world like I do. So join me. Read more.